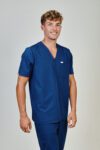 Vets, like other medical professionals, need to wear appropriate clothing when doing their job. Medical sweatshirts for vets are a very important part of their wardrobe - not only does it need to be comfortable, but it also needs to meet appropriate standards related to hygiene and safety for both the doctor and the animals. Let's take a look at which features to look out for when choosing a medical sweatshirt for a vet.
Functionality and convenience
Medical blouses for vets should be, above all, comfortable and functional. A veterinarian often performs a variety of activities, such as examining animals, carrying out treatments or giving advice to owners. It is therefore important that the clothing allows freedom of movement and does not constrain the doctor during work. It is worth paying attention to medical blouses with a looser cut, made of materials with added elastane. It is also worth checking that the sweatshirt is abrasion-resistant and that it does not lose colour when washed.
Suitable material
The material of the medical blouse has a crucial to the vet's wellbeing. His or her work often involves long hours on his or her feet, so it is important that the sweatshirt is made of a material that will provide a pleasant, comfortable wear. It is a good idea to choose a breathable fabric that will provide breathability and not make the doctor sweat while working.
It is also worth looking at materials that are easy to clean, as medical blouses need to be washed and disinfected frequently. Cotton/polyester blend fabrics, which combine the advantages of both materials, are popular.
Pockets and accessories
Medical blouses for veterinarians are often equipped with various pockets and compartments to facilitate the storage of essential tools and accessories. This is a very practical solution that allows the vet to have everything at hand and respond quickly to the animals' needs. It is worth noting medical blouses with pockets on chest, hips or sleeves and those with special holders for pens and other useful small items.
Colour and design
Although the classic white medical sweatshirts are the most recognisable, more and more vets are opting for garments in other colours. They are available models in various shades of blue, green or grey, as well as with interesting patterns and animal motifs. The choice of colour and design is a matter of individual taste, but it is worth remembering that professional clothing should be aesthetically pleasing and help to build a professional image of the vet.
Personalising a medical sweatshirt is an interesting idea. Check out our service, where we apply high-quality embroidery to medical garments, which can represent anything the customer wants: the name of the clinic, the clinic's motto or the doctor's name.
The right cut: women's and men's sweatshirt models for vets
The following are available on the market medical blouses for both male and female vets. Women's models often have a slightly different design to men's, taking into account differences in body shape. It is worth paying attention to the right cut of the sweatshirt to ensure a good fit and comfort. Sweatshirt for the vet it should be cut in such a way as to allow freedom of movement in a variety of activities. Sweatshirts with a looser cut are the best option, which do not restrict movement and allow you to move freely.
In summary, choosing the right medical sweatshirt for a vet is an important decision that affects the vet's comfort and professional appearance. It is worth paying attention to features such as material, functionality, pockets and colour and design. A well-chosen medical sweatshirt also means hygiene and safety for the vet.