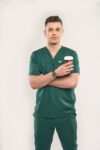 Suitable masseur's outfit helps to effectively build a positive image, but is also crucial for comfort and hygiene. The best choice, therefore, will be a specialist medical clothing for the masseur. Check out what makes it stand out!
Comfortable medical clothing for the massage therapist
Medical clothing for the massage therapist Above all, it provides comfort and convenience. This is thanks to the appropriately selected materials and cut.
Masseur's outfit must not restrict movement. That is why medical clothing made of elastic (4-way stretch) materials will work. Such a garment adapts to the movements of the body, thus allowing full freedom, making it possible to effectively perform any massage technique.
Medical clothing for men It also needs to be well-fitting yet loose-fitting. A well-chosen size and the right cut on the one hand accentuate the silhouette, on the other hand avoid pressure and chafing of the body even when worn for long periods of time.
Massage therapist's outfit to help maintain hygiene
Hygiene in the work of a massage therapist is extremely important. It is not only about a properly prepared, clean workplace or well-groomed and washed hands, but also about keeping clothing fresh throughout the day.
Masseur's outfit It should therefore be breathable, breathable and must wick away moisture well. Massage is, after all, hard physical work, so good sweat-wicking is essential to maintain comfort - both for yourself and your clients.
It is also worth choosing medical clothing for the masseur made of water-repellent materials, which avoids stains and makes it easy to keep clean throughout the day. Such outfits are also easy to wash (even at high temperatures), dry quickly and do not need ironing.
How does a masseur's attire affect image building?
Suitable masseur's outfit is not only a question of hygiene and comfort, but also of image. Appearance is, after all, one of the first things customers pay attention to.
Medical clothing for the massage therapist simply looks professional. It is associated with specialists, so it helps build trust. It is like a business card that shows preparation and approach to work. It shows clients that the massage therapist takes his or her profession seriously.
It is also important that the masseur maintains a good appearance throughout the day. Unique properties medical clothing for the masseur - ease of cleaning, flexibility so that the garment does not lose its shape and precise workmanship - ensure that the garment maintains a fresh, aesthetic appearance from the first to the last patient.
It should also be emphasised that a well-chosen medical clothing for the masseur not only makes a good impression on customers. Hygienic, aesthetically pleasing and fashionable masseur's outfit it also ensures the wellbeing of the wearer himself. We simply feel better in comfortable, clean and fresh clothes, and this is crucial for, among other things, maintaining good relations with customers.
Medical clothing for the massage therapist is therefore the ideal choice for all those who want to build a professional image and ensure maximum comfort for themselves and their clients.